Akil & Al-Mulla specializes in Interior Architectural Design Projects and solutions. It derives experience from its field work and through a cooperative partnership with Ghazi Akil Design Center, accumulating almost 50 years experience in Kuwait's market.

In addition to Akil & Al-Mulla's local market experience, it has also developed partnerships with many European and American Companies specializing in Decorative and furniture solution. These companies ensure the best solutions in addition to their quality guarantee.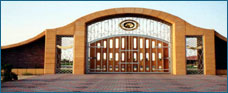 Akil & Al-Mulla took part in many upscale projects established in Kuwait. Our company and its partners served many high end clients consisting from Head of States, Government sectors, Large corporate establishments and clients seeking quality solutions.

Akil & Al -Mulla assures quality solution,in addition to guaranteeing its work for long terms assuring that our customers place their trust in the right solution.

Akil & Al-Mulla seeks every challenge and position. Through its work over the years, it has proved the capability to provide its customers with complete solutions.